Posted on May 20, 2013 at 2:08pm 0 Likes
By the Editors at FamiliesGo!
There's no such thing as traveling light when you travel with kids. So we value anything that allows us to carry less, carry smaller, carry lighter or that keeps the kids comfortable longer. Here are 10 products (and 1 service) that get get high marks for cleverness in our book. Let us know what you think.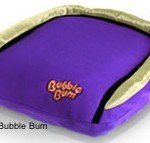 1. Bubble…
Continue