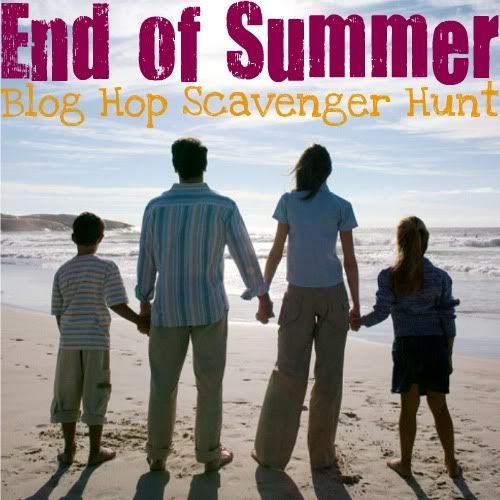 Alright ladies, it's time to start getting ready to said "bye bye" to summer and "hello" to a new school year. What better way to do that then with an End of Summer blog hop scavenger hunt? Here's how the hunt goes:
Each day during the hunt you continue to blog as you would normally do so.
I will go to each participants blog and read all the new posts and create a question for each blog. (This could be anything from why type of image was in your post to a small detail in the post itself)
Every day a new set of questions will be posted and I will email you the code to post the questionaire on your blog.
The more questions the readers get right, the more entires they get.
Additional entries: tweet, facebook post and/or blog post about the giveaway, Facebook like and writing on your Facebook page wall, Twitter follow and mention that they are now following you, and GFC (Google Friend Connect) with comment on your post for the End of Summer Blog Hop Scavenger Hunt.
At the end of the hop a winner will be selected though a random number generator.
The winner has 48 hours to claim the $100 cash prize, which will be awarded through paypal. If the winner has not responded within the allowed 48 hours, a new winner will be selected.
If you're interested in participating in this giveaway, add your blog to our link below. Nine bloggers will be selected at random through a random number generator. There will be a $10 fee that must be received within 24 hours of notification that you have been selected. Entries for this Blog Hop will close at midnight on August 5th. Winning participants will be notified via email on Sunday, August 7th.