(a recipe)
1 can solid-packed pumpkin (29 oz)
1 can evaporated milk (13 oz)
1 cup sugar
3 eggs, slightly beaten
1/4 teaspoon cinnamon
1 box yellow pudding cake mix
1 cup walnuts, chopped
1 cup butter, melted
Mix pumpkin, evaporated milk, sugar, eggs and cinnamon together.  Pour into a 9x13 inch pan lined with waxed paper.  Pour 1 box cake mix (fry) over pumpkin mixture and pat nuts on cake mix.  Spoon melted butter evenly over nuts.  Bake at 350 for 50-60 minutes.  Invert onto tray and peel off waxed paper.  When slightly cooled, spread frosting over.
Frosting:
1 package cream cheese (8 oz), room temperature
1/2 cup powdered sugar, sifted
3/4 cup Cool Whip
Beat together cream cheese and powdered sugar.  Fold in Cool Whip.  Spread evenly over cake.  Refrigerate.  Cut into squares.
Note: So about those rules made to be broken...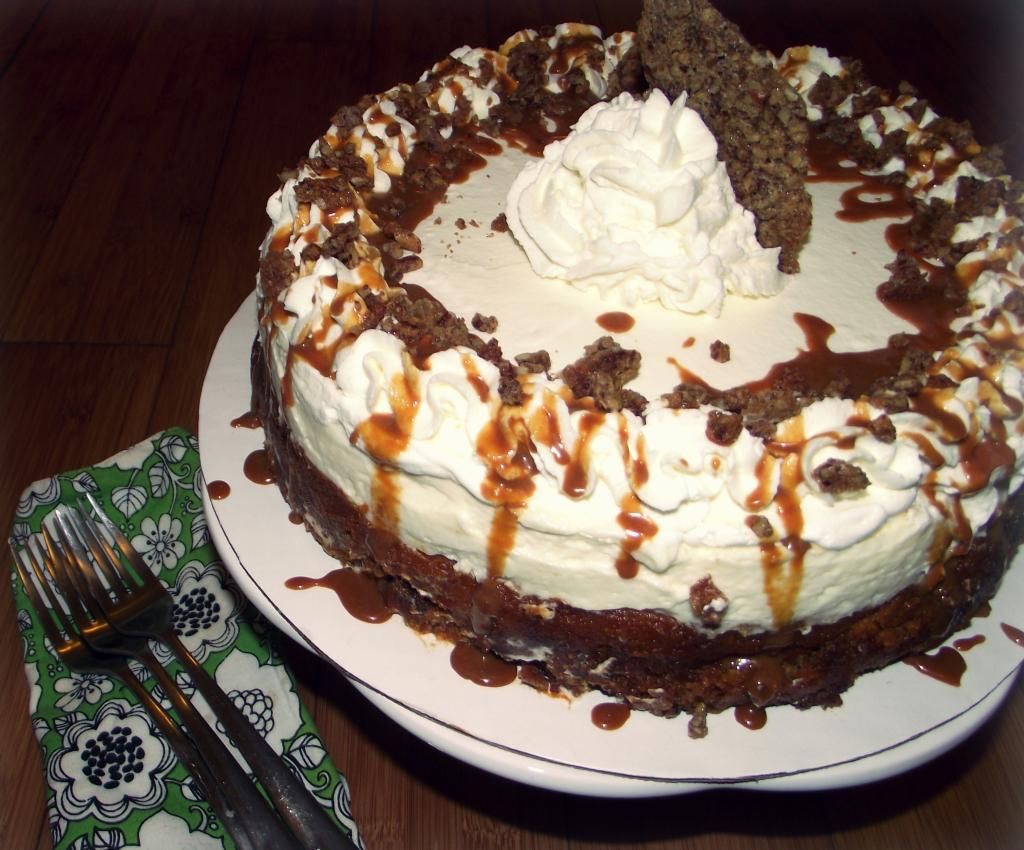 For a "show stopper" effect I use a 10 inch spring form pan lined on the bottom only with waxed paper and these adjusted m
easurements:
 1 1/2 teaspoon cinnamon
1 1/2 cup finely chopped pecans
1 1/2 cup butter, melted
Spread about half of the cake mix, if you wanna have more control over the ingredients you can find a recipe to make your own cake mix here, and pour half of the butter over the cake mix.  Sprinkle, and by sprinkle I mean "dump"-- this is basically a glorified "dump cake", the rest of the cake mix, top with nuts and pour remaining butter evenly over the top.  Be prepared this version is more dense and will take longer to bake, like, a lot.
double the amount of frosting
On days when I am more patient, and willing, I substitute the Cool Whip with stabilized freshly whipped cream, done like this here.  And to garnish I spread a thin layer of whipped cream, with some sugar and vanilla added for flavor, over the entire surface and then pipe cream along the edge.  When cooled slightly run a butter knife along the inside edge of the ring to loosen the dessert and pop off the ring.  Invert onto a serving dish.  I spread about half of the frosting on immediately, there's something magical about it all sort of melting together, and the other half once it's cooled completely.  
A drizzle of caramel sauce and a sprinkling of candied pecan pieces finishes the whole thing off nicely if you're into that sort of thing.
live sweet,
A link to caramel sauce here.
(Or you could just melt a few caramel squares in the microwave, for one minute at a time, with a few teaspoons of milk and stir)
The easiest and best candied pecans recipe here.