By Jo
With Mother's Day just around the corner, the time is ripe to start thinking about the perfect present for the special lady in your life – and we moms are no exception! Flowers are an eternally popular Mother's Day gift with good reason. They're a beautiful and fragrant way of expressing our gratitude and love.
What's more, you can personalize your Mother's Day bouquet by taking into account not only your mom's floral and color preferences, but also the meaning behind each flower. According to floriography (or the language of flowers), every bloom has its own special message. Putting some thought into what you'd like your floral arrangement to convey will make your Mother's Day gift both beautiful and heartfelt. Here is our floral guide to Mother's Day gifts.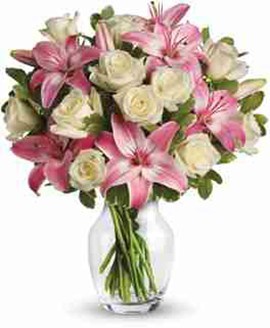 The perfect bouquet for the special lady in your life, this beautiful arrangement pairs pink lilies with delicate white roses for a pretty yet refined look. White and pastel pink together mark a classic color combination for Mother's Day.
Lilies, in all their variations, are regarded as a symbol for motherhood, while the ever-popular rose represents love and virtue. White roses in particular are said to symbolize eternal love, purity and reverence, making this combination a meaningful expression of gratitude and love for your mother.
If your mother is allergic to pollen, this is also a great hypoallergenic option as both roses and lilies are allergy-friendly flowers.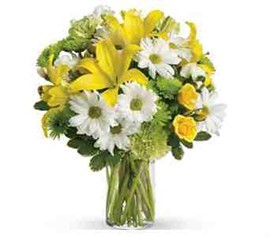 Despite the name, this bouquet is far from mellow. Its vivacious yellow and white tones make it a sure bet for any mothers with a zest for life and fondness for bright colours. This bouquet is made up of gerberas (which represent cheerfulness), alstroemeria and lisianthus, as well as the classic Mother's Day flower, carnations.
The founder of this special day, Anna Jarvis, associated carnations, particularly white ones, with motherhood. She once said, "The carnation does not drop its petals, but hugs them to its heart as it dies, and so, too, mothers hug their children to their hearts, their mother love never dying."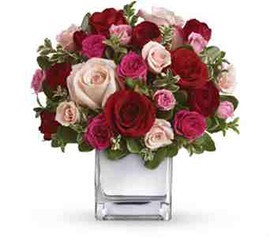 Red, white, pink or fuchsia – you can never go wrong with roses, that most classic of flowers. This bouquet showcases the lovely form and various romantic hues of the rose, in red, a delicate pale peach colour, and various shades of pink.
More modest and compact in size, it's a beautiful posy and great for mothers with more classical, traditional tastes. Roses in particular have long been associated with motherhood and, according to the language of flowers, they represent love, grace and modesty – a perfect fit for Mother's Day.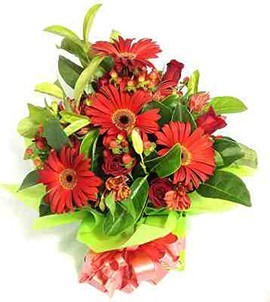 Another bright and colorful bouquet, Timeless is a bowl arrangement bringing together a range of colours, shapes and sizes through roses, gerberas and delphinium. It's a great mix of traditional, iconic flowers, alongside some bolder, more eye-catching numbers.
Delphinium or larkspur is associated with light heartedness, fun and the belief that anything is possible. In floriography, pairing the fun-loving delphinium with classic roses and bright and bubbly gerbera daisies makes for a lively bouquet perfect for mothers with radiant personalities.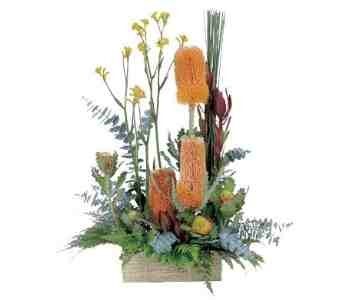 If you think your mother would prefer a non-traditional Mother's Day bouquet, a unique arrangement of Australian natives could be the way to go.
Together, the strikingly sculptured kangaroo paw, warm orange banksia flowers, bright leucadendrons and the beautifully scented gum offer fresher, more striking textures and shapes — all with a distinctly Aussie twist. The centrepiece, the banksia, has a long vase life, making for a longer-lasting Mother's Day gift.
Though Australian floriography is still developing as a field, eucalypts are commonly thought to express love and protection. One thing's for sure – this bloom shows that you and your mother are not afraid to stand out from the crowd.
Don't forget to help keep your mother's bouquet fresh to help it last longer. Clip the flowers' stems under running water at a 45-degree angle and refresh the water regularly. Using plant preservative will also help, as can a number of homemade alternatives such as bleach and sugar.
For an even more meaningful expression of gratitude and love for your mother, you may like to consider a themed card relating to the beautiful bouquet you've gotten her or even placing pressed flowers inside the card to match your gift.
About the author: Jo is an award winning florist, servicing Ryde and Sydney's metro areas. She loves crafting the perfect arrangements, whatever the occasion.
Content on this site contains sponsored and affiliate links. Read our disclosure here. If you purchase something through a post on our site, Bloggy Moms or the publishing member may get a small share of the sale.