Content may contain affiliate or sponsored content. Read disclosure
here
.
We all have at least one person in our life who acts like Scrooge, the grumpy old man from "A Christmas Carol" when the holiday season comes, but that doesn't mean you can't keep laughing. Whether it's an emergency clown nose for a grumpy boss or co-worker, or a bearded ski mask for that family member who needs some stress relief, we've found fun gifts for every type of person on your list. From fun novelties to surprisingly useful products, here at Artpix3D, we prepared a list of 18 hilarious holiday gifts that will brighten up anyone's day.
A Toilet Mug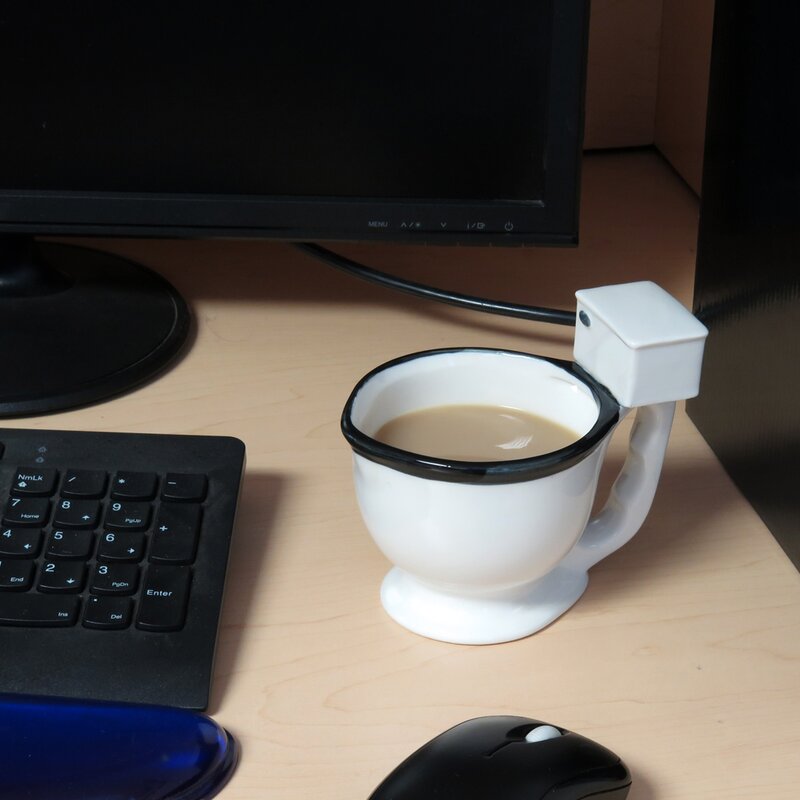 For the dirty-mouth Scrooge, this ceramic toilet-shaped coffee mug is a funny gift. It is practical to keep them well caffeinated – and therefore, less grumpy – but they can also impress their friends and co-workers with their throne.
Whoopie Cushion
A classic prank gift, the musical sounds of a fart cushion never stop laughing. Available in a set of three, this self-inflating version will let you have fun pranking the Scrooge into your life during the holidays – and he may start surprising others, too.
Profanity Book Generator
The Scrooge in your world probably has a lot of negative things to say over the holiday, so why not help him get a little more creative and speak more than just "Bazinga!" This portable profanity generator allows them to mix and invent curses when standard profanity doesn't work, and the resulting expressions are fun.
3D Crystal with a funny picture
There are a lot of good family gift ideas which can be found here. You can make a silly picture with your friend and order engraved crystals online. This company produces 3D crystal photo pictures for a high price and crystal types.
Digital Retirement Countdown Timer
As much as Scrooge would prefer everyone to work on the holiday, he's also likely eager to retire when he doesn't have to worry about everyone's festive joy. Give your favorite Scrooge something to look forward to with this time-counting watch.
Yodeling Christmas Pickle Ornament
This ornament is the perfect gift for the Scrooge in your life who prefer to do anything other than decorate a Christmas tree. Hanging a pickle on the tree is an old German tradition, and it has the additional benefit of ringing every time someone passes by it due to its motion detector.
Coddies Fish Flops
Do you want to try a new angle with your favorite grumpy? If you like to fish, a pair of these colorful sandals can surprise you, as your feet will have a unique charm. The fish-shaped shoes come in the form of horse mackerel, goldfish, and tuna, making lightweight anti-slip material.
Bearded Ski Mask
While it may be a bit of a splurge, this bearded ski mask also has a practical purpose in keeping the rude face of your popular discontent warm. It's a great prank gift for the avid skier or snowboarder looking to get away from the festivities or anyone who wants to hide from family and friends this season.
Reindeer Farts Cotton Candy
For anyone wondering exactly how Santa's reindeer fly, this prank gift should clear things up or clear the room. The reindeer fart bag is filled with cotton candy, so not only will you make the grumpy happy, but they'll also have a snack to enjoy. Additionally, 10 percent of the proceeds are donated to charities that provide toys for children in need, so that everyone wins.
Reindeer Antlers Headband
Lead the way like Rudolf with this stylish reindeer antler headband, the perfect gift for Christmas parties, costumes, or just to wear around the house. They're just like the ones worn by one of our favorite Scrooges, Bill Murray, in "A Very Murray Christmas," so it will surely fit the Scrooge.
A Christmas Carol Movie
And if you're poking fun at the bunker of your life with a movie about Scrooge, you should probably get the classic movie "A Christmas Carol." They may learn to be a little less crabby this year, and perhaps avoid visits from Christmas ghosts.
Emergency Underpants
Even Scrooge deserves a laugh on a bad day, and these emergency briefs are sure to come to the rescue. Great gift material for most of the grumpy among us, this is an excellent gift for your grumpy grandfather or co-worker.
13 Fake Spider in a Box
For the spider phobia in your life or the grumpy who loves to play pranks, this spider will surely bring a lot of screaming and laughter when the unsuspecting recipient opens the box. Since it already comes in its box, it's the perfect holiday gift, and some critics have suggested decorating the exterior to make it an even bigger surprise.
Nap Sack Sleep Hood
The Scrooge in your life would probably prefer to sleep during the Christmas celebrations – or anything that involves fun – so why not give them the perfect accessory to do so? Important Note: This is just a prank gift box with the pictures on the outside. It has no hood to sleep on the inside, but it is excellent for laughing, and you can put your real gift inside.
Blah Button
When your grumpy friend, family member, or co-worker tires the joys and carols of the holiday season, you can hit the Blah button, and it will say exactly what it thinks: "Blah, blah, blah." The battery-operated button says "blah" in 12 different ways – fast, slow, and diverse voices – because why mess with perfection?
Santa's Surprise Jelly Beans
A little bit of dark Christmas humor is probably what your favorite bittersweet needs this holiday, and Santa's Surprise Gummies offer him a great deal of old-chimney fun. Red (strawberry), green (watermelon), and white (pina colada) jelly beans are great to laugh at and taste good. This may be a bit of a stretch for your boss, but hey, they may have a great sense of humor.
Snake in the Can
Another classic, the old snake trick in a can, is an excellent gift for any grumpy guy, and this one has the added fun touch of having the snake – which is 4 feet 5 inches – jumping out of a can of potato chips. It sure surprises your Scrooge, and can even make him smile – also if he says "Bah, humbug" later.
Drinking Helmet
If you feel like your friend is stressed out in your life, and probably hates having to get up from his favorite chair during holidays, this helmet saves them the trouble by allowing them to drink two beers or sodas together to lift a finger. They just put two cans in the holders and drink through the straw, and then they can enjoy watching "Scrooged" without interruption.
Photo by Daria Shevtsova from Pexels