Content may contain affiliate or sponsored content. Read disclosure
here
.
Trampolining is such a fantastic outdoor activity because it encourages children to exercise and be outside in the fresh air. Trampolines provide hours of healthy entertainment building coordination and muscle development. There are risks associated with trampolines, however, so it pays to be informed about safety standards. Most of the trampoline-related trips to the emergency room involve jumpers colliding with one another or falling into the springs or onto the hard metal frame. Even with the advent of safety nets, problems still arise as jumpers can still come in contact with the springs and frame — or the rigid steel poles that hold traditional netting in place. What options are available to provide the fun and healthy exercise while increasing trampoline safety?
First and foremost, all trampoline activities should be supervised by parents or guardians. Set rules for single jumping only and safe jumping habits to prevent neck and back injuries. In addition, consider purchasing a trampoline that exceeds industry safety standards, one that eschews the traditional spring system all together.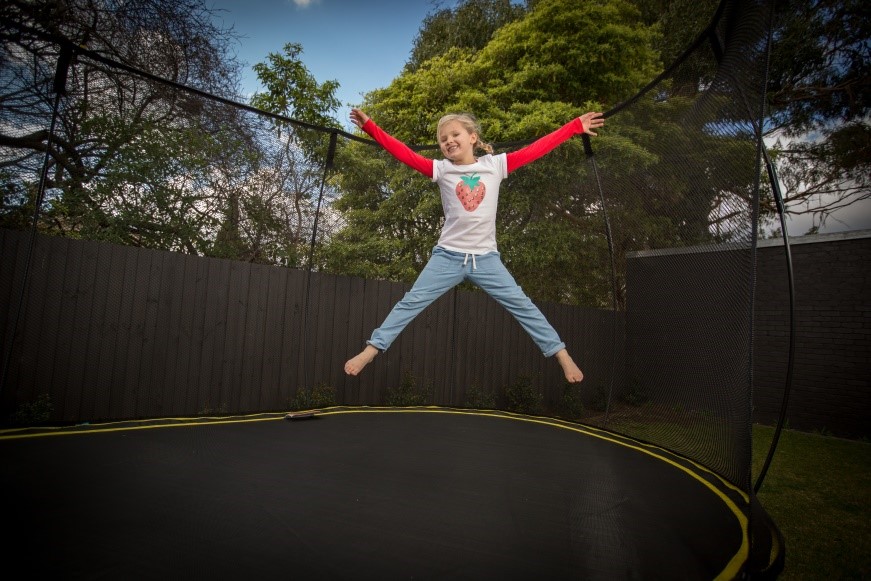 Traditional hard metal springs are one of the leading causes of trampoline injury, so the safest alternative is to replace them with composite rods placed below the jumping surface so there is no danger with children coming in contact with them. Springfree Trampoline USA has increased trampoline safety by utilizing flexible parts instead of hard metal springs — the rods provide a safe alternative to the traditionally dangerous metal components that cause so many injuries. Traditional trampolines have metal frames that surround the jumping surface, but the Springfree Trampoline system designs the frame below the mat, thereby eliminating any possibility of contact with the jumper.
In conjunction with the removal of metal springs and frames, the spring-less system also utilizes the jumping surface, called the SoftEdge. This unique mat is 30 times more shock absorbent than the traditional trampoline pads surrounding coils on a traditional trampoline. Combined with FlexiNet enclosure, the highly absorbent mat ends where the net begins — creating a 360 degree safety zone. Composite rods are used to support the net enclosure as well, which prevents collision with any rigid supports, instead guiding the jumpers gently back to the center of the trampoline. A Springfree trampolineis made from the highest quality materials and all parts are tested in-house to ensure quality that will last.
Recognized by The US Family Choice, The Parent Tested Parent Approved Award and the International Design Award, this system is the best choice for trampoline safety. While there are still dangers associated with trampoline use, the spring-less system invented by Springfree Trampoline reduces 90% of product-related injury and is the best bet for keeping your jumpers safe. The Trampoline Review Guide considers the system with no springs, hidden frame and flexible enclosure as being one of the safest trampolines on the market. If you are looking to purchase a trampoline that provides the best and latest safety features for your child, consider a spring-less trampoline today.